It is the pursuit of knowledge that takes a man from darkness to light, and it is said that no matter how much knowledge you have, it is never complete or enough. Dr Shrikant Jichkar was someone who followed a similar school of thought, and you will be baffled with his educational qualifications—the man had acquired 20 degrees!

Yes, that is true. Dr Jichkar was a scholar in a variety of fields ranging from journalism to medicine! While he began by pursuing and completing an MBBS degree, once he received it, he realised that apart from medicine, he was just as interested in other fields. And this is how he began his educational pursuits.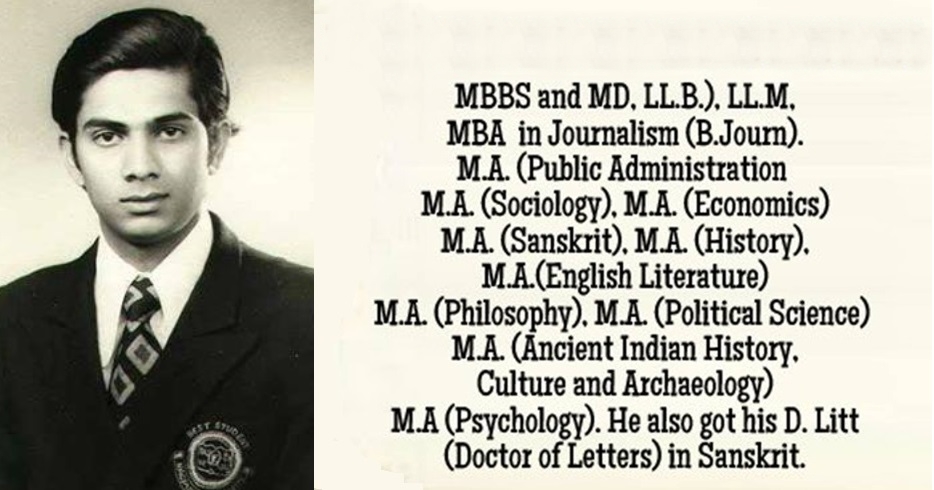 Dr Jichkar completed his MBBS, LLB, MBA, DBM, Bachelors in Journalism (B Journ at that time), and his MA degrees are in Public Administration, Sociology, Economics, History, English Literature, Philosophy, Political Science, Ancient Indian History, Culture and Archaeology and Psychology.

Is it a surprise then, that he had an in-house library of about 52,000 books?
(L) A school founded by Dr Jichkar. (R) Dr Jichkar.

Dr Jichkar's thirst for academic knowledge did not end here. He even secured a D Litt in Sanskrit—the highest educational degree one can acquire in the subject. Later in life, he single-handedly established the Sanskrit University in Maharashtra and served as its Chancellor.

Born in 1954 near the Nagpur district of Maharashtra, Dr Jichkar's journey towards attaining these degrees began when he was just a 19-year-old. Between 1973-1990, he spent his summers and winters appearing for University exams.

In 1978, Dr Jichkar appeared for the Indian Civil Service examination. Needless to say, he passed and was selected for the Indian Police Service (IPS).

However, he had loftier aims, so he resigned and reappeared for the exams—and hit the bulls-eye this time as he got selected to the Indian Administrative Service (IAS).
Jichkar with a Limca book of records trophy. Source.

After four months of serving as an IAS officer, Dr Jichkar contested the general elections and was elected to the Maharashtra Legislative Assembly in 1980. He was just 26 years old, and became the youngest MLA in the country!

Regardless of his young age, it was evident that Dr Jichkar was an able administrator and was assigned 14 portfolios in the Maharashtra Legislative Assembly where he served from 1982–1985. The next year, in 1986, he started his term in the Maharashtra Legislative Council and served there till 1992. That year, he was elected as a member of the Rajya Sabha.

In 1999, when Dr Jichkar lost the Rajya Sabha elections, he turned his focus to travelling. He had always been an artist at heart and enjoyed painting, photography and performing in plays. He travelled to various parts of the country to speak about health, education and religion. At the same time, he also represented India at UNESCO.

In his mid-forties, he was diagnosed with cancer in his adrenal glands. Although he battled the disease, life had other plans for him.
Dr Jichkar with Dr APJ Abdul Kalam. Source.

On the fateful night of 2nd June 2004, Dr Jichkar was driving his friend home from a farm in their native district of Nagpur when a bus slammed into their car. That night, Dr Jichkar passed away at a young age of just 49 years.

Although he had a relatively short life, it is evident that the doctor, lawyer, IPS and IAS officer and politician lived a full life. His name has been immortalised in the Limca Book of Records as the most educated man in India. If there is any inspiration we can take from Dr Jichkar, it is that we should follow our passion and heart, as this decision will undoubtedly lead us towards greater achievements.